F4 Savannah Cat for sale
F4 Savannah cat is four generations removed from the African serval. To create an f4 savannah, you take a f3 savannah female and breed her to an sbt Savannah male which is usually f5-f7 Savannah male.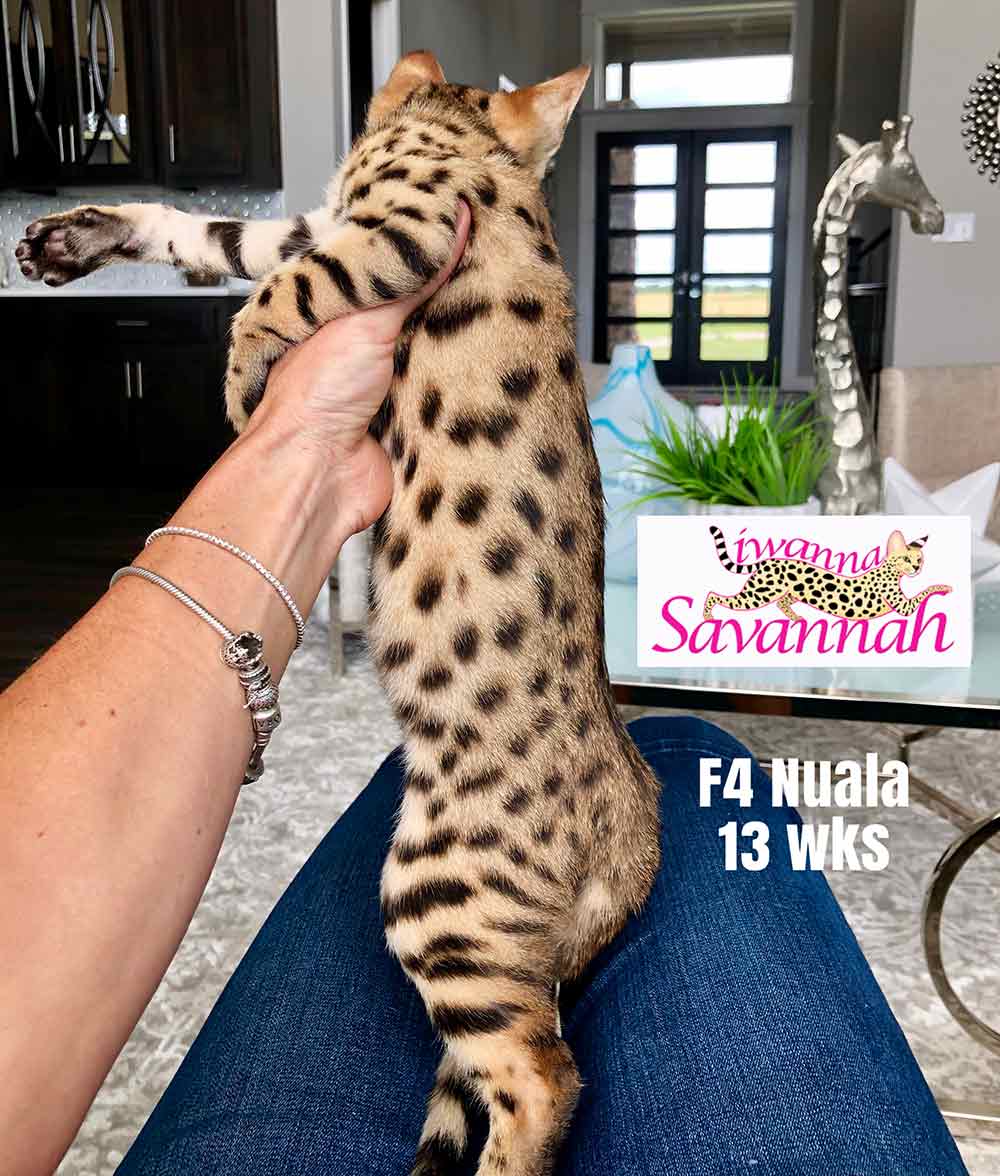 F4 Savannah is the first generation that can be SBT.  SBT means Stud Book Tradition, which means there are at least 4 generations of pure Savannah to Savannah breedings with no outcrossing.  Outcrossing is taking another breed of cat and breeding it to a Savannah. Examples of some are bengals, Egyptian mau , oriental shorthair's, and regular DSH.
  You will noticed a massive difference in the overall look of the Savannah is different when other breeds are missed in. There is also a difference in the quality of the breeding cats used. Often at the SBT level (f4-f7) when quality breeding cats are NOT used they end up looking like glorified tabby cats.
F4 Savannah Kitten
Key characteristics of F4 Savannah cats include:
1. Appearance: They typically have a distinctive spotted coat, similar to that of a serval, with varying patterns and colors. Their coat can range from golden to silver, and they should still have nice tall ears. The closer together the better.
2. Size: f4 Savannah cats are larger than most domestic cats, with males weighing between 12 to 20 pounds (5.4 to 9 kg) and females weighing slightly less.
3. Temperament: F4 Savannah cats are known for their active and playful nature. They are intelligent and may enjoy interactive toys and puzzles. They can be social and may form strong bonds with their owners.
4. Energy: These cats are highly energetic and require plenty of mental and physical stimulation. Providing them with opportunities for play and exercise is essential for them and for you. The less trouble they'll get in.
5. Care: Their care requirements are similar to those of other domestic cats, including regular grooming, vaccinations, and a balanced diet. It's also important to provide them with a stimulating environment to prevent boredom.
6. Legal Restrictions: Some places have restrictions or bans on owning Savannah cats due to their wild heritage. Always check local regulations before getting one as a pet.
F4 Savannah Cat price
The F4 Savannah cat price will be more affordable than higher Gens.  It's worth noting that as you go further down the generations (F5, F6, etc.), Savannah cats become more domesticated and their behavior becomes similar to that of traditional house cats. However, they often retain their distinctive appearance and playful puppy personalities. If you're considering getting an F4 Savannah cat or any other exotic breed, make sure to research thoroughly and choose a reputable savannah cat breeder who adheres to ethical breeding practices.
F4 Savannah Kittens for sale